Panther's Run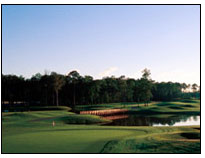 Panthers' Run Golf Links was born to be a different kind of challenge. Tim Cate has designed this marvelous cat to prowl along the edge of a nature preserve and continually test your ability to stay out of the surrounding marshland. Wide fairways that twist and turn, plus scenic water features blend together perfectly to create one of the most visually interesting courses in the Carolinas.
Golf For Women magazine called Panthers' Run® one of the "Top 100 Fairways for 2000".
Amenities/Facilities
Has everything.
Location
North of Myrtle Beach on Highway 17, approximately 8 miles from state line.