Sea Trail Plantation
WILLARD BYRD COURSE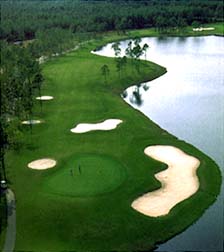 Opened in the fall of 1990, the Willard Byrd Course is memorable for both beauty and exacting play. Built around several man-made lakes, each ranging from 14-20 acres, every hole of this par-72 signature course requires a distinctly different approach. Strategically placed tee shots are essential for successful play on Byrd's undulating bentgrass greens. A picturesque and scenic 18th hole between two ponds finishes the course at the Jones-Byrd Clubhouse. For golfers at all levels of play, The Byrd offers a fun-filled round of golf.
DAN MAPLES COURSE
The Dan Maples Course at Sea Trail may be one of his very best ever. Twisted ancient oaks, tall Carolina pines and tifdwarf greens define each hole on the beautiful par-72 course. Five holes wind along the scenic Calabash Creek, home to nesting pairs of osprey. A medium-length, accuracy demanding course, The Maples is unique in it's use of waste bunkers; one extends the length of No. 15 for 400 yards, making it a challenge for even the experienced golfer.
REES JONES COURSE
The Rees Jones Course opened in the spring of 1990 and has since earned high praise from visitors and locals alike. Players of all skill levels will enjoy an extraordinary golf experience on the straightforward Course with elevated bentgrass greens and a traditional feel, wide fairways and large mounds are by water, with water coming into play on 11 holes of the par-72 championship course. In addition to water hazards, the many pot bankers and large expanse waste bunkers make for a delightfully challenging game of golf.
Amenities/Facilities
Has everything you need. Go by and play it.
Location
North Highway 17 take Highway 179 to Calabash – turn off and follow signs for 3 different entrances to complex.